I can't believe how quickly time flies. I say this all the time, but it's so true. Where did this year go? I'm working on a scrapbook page for 2009 as a wrap up, and it's tough to get it all down on paper. I did successfully finish my 30 while 30 page though- and here it is...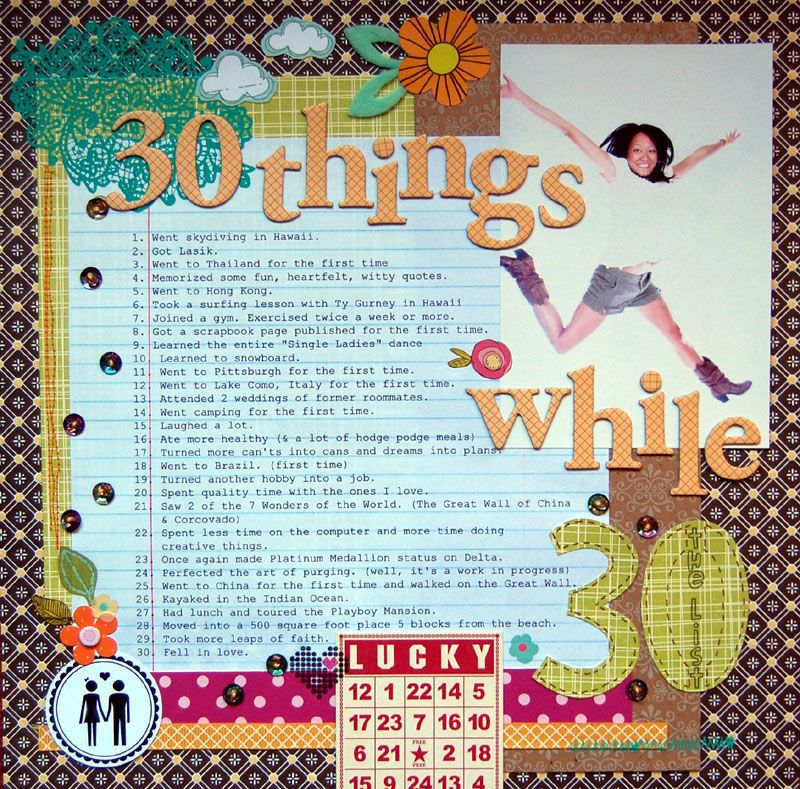 supplies: American Crafts, Jenni Bowlin, October Afternoon, Hambly, Shabby Chic Crafts, jillibean soup, Love Elsie, sequins, photo by LA Photo Party
We donated our argyle cardigan and it's On eBay for a great cause. It would make a great gift!
I ordered my Nikon D90 from here, and it arrived the day before Thanksgiving, as promised. I was so psyched to use it, and had the perfect opportunity while hanging out at an amazing house in the Hollywood Hills. Courtney Jaye was there with Band of Horses, and Mr. Wonderful and I joined them for a little pool party. It was a perfectly clear day, and you could see downtown to the left, and the ocean to the right.

Our Thanksgiving was wonderful- had dinner with a dozen friends on a rooftop deck in Venice. It was gorgeous, but I ate way too much. This was my 1st plate and my 2nd plate was identical minus the ham and spinach. I had to hold my stomach with my hands while walking.

Cheers to recovering from an indulgent last few days! Oh and thanks to all who came to Patchwork in the LBC yesterday. We had a great time- and if you haven't seen this press yet, read it here. Nicole's doing some great things for the craft world!