Our shirts will be at the Sassy City Chicks sale tonight at the Hard Rock Hotel's Rooftop lounge in San Diego. Come say hi!
We started hanging up some stuff in my little place in Venice. The wall was already painted, and when Tangerina moved in, they became friends right away (we thought they might clash, but they get along great). Here's a piece by Random Nicole...

Joined by a piece by Michelle (it says: Involve all of your soul in creation. ~Victor Hugo) and a lovely gift from Amy, who was in my class at SISLive.

Here's a close up of the canvas. I just adore the whole thing, especially the quote...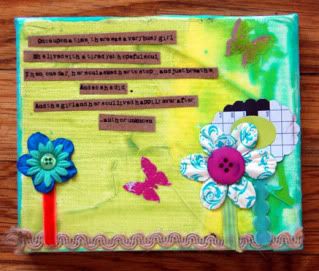 My hope is to expand the canvas collage wall with more delightful pieces.