Well, if you really could do that, you would see that it's quite a disaster. Well, to me, organized chaos. Lately there's been a lot of interest in seeing my space, and since I am just getting used to the idea of sharing my messes, I have decided to just show you little bits and pieces. Hey, it's a start... I just love old filing cabinets and furniture...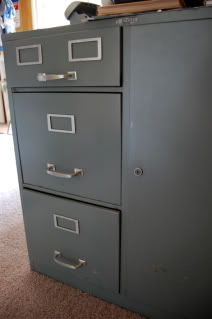 A sign that makes me laugh from the town in which I grew up...

Above my desk sits this little shelf and it's crammed with goodies...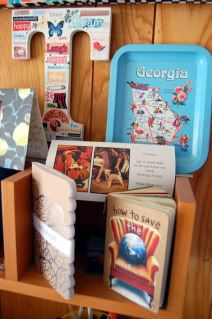 And above the shelf on the wall is a page done by Jen, a wall hanging I made out of a broken clock, a felted flower made & given to me by Emily, a mini canvas I made while in Thailand, and a house canvas I made with Lori Marie.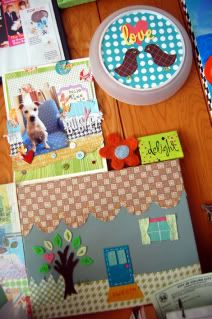 And this Inpiration Journal sits on my desk... you can see more of it on the American Crafts blog

Thanks for visiting! If you happen to be in Orange County, we will have a table with tee shirts at Reflections on Friday night at the vendor faire! And if you are in the Los Angeles area, be sure to check out Unique this weekend! We'll be in the Eco section with Rebe and amykathryn!