Bamboo and I got to spend a lot of quality time together because we decided to separate her from Buster, who was neutered on Friday. I am happy to report they missed each other lots and are back together again and playing like crazy and chasing each other around the way they do best.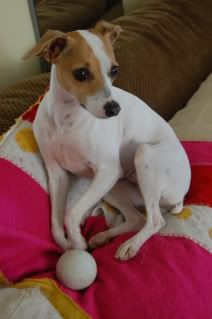 Here she is (with her favorite beach ball) while I was making this page:
And I did a crafty wrap up for the CHA show while hanging out at Gillian's place.

Looking forward to spending some time at the Urban Craft Center which we stumbled upon last week while hanging out on Main St in Santa Monica.
Girls love giveaways, and all you have to do is sign up for PlushJunkie's email subscription for your chance to win this bracelet... sign up here!