Happy February everyone! I am most excited about this new month because even though the new year brings me much joy and is a great place for new beginnings, January's usually a dreary month for my mood. The ups and downs seem to be more unbalanced, the hustle and bustle of the holidays are over, the sun doesn't stay up for long enough, and last year I got the flu and ended up staying in bed for a week. I am inspired by taking life bit by bit, and staying healthy and focused and knowing that not all my moments will be filled with fun... but most of them can be, with just the right outlook. Thanks to Angie for the following daily inspiration:
EMBRACING JOYFUL SIMPLICITIES
QUOTE OF THE DAY: "Year by year the complexities of this spinning world grow more bewildering and so each year we need all the more to seek peace and comfort in the joyful simplicities." ~Woman's Home Companion, December 1935
" We all have days in our lives that are marked by great moments of rejoicing and celebration: the baby is born, the promotion comes through, the book contract is signed. But life is not an endless round of cake and champagne. There's alot of drudgery to most of our days: sheets to be changed, dry cleaning to pick up, garbage to put out. To keep our daily round from being all drudgery, we've got to savor the art of the small... "
THINK ABOUT THIS - "As we become curators of our own contentment... one of the great payoffs is that we start to seek peace and comfort in the joyful simplicities. Little things begin to mean a lot to us. Joyful simplicities nourish body and soul by engaging our senses. They teach us how to live in the present moment. Life comes together when we seek out the sublime in the ordinary."
SUGGESTION - " Today, make discovering those joyful simplicities that bring you personal comfort and a sense of well-being one of your highest priorities. It's a winter's day. Can you make a pot of homemade soup for supper? Chopping, paring, and scraping are very calming activities. Really look at the colors of the vegetables - the orange of the carrots, the bright green celery, the pearly white onion. You have a beautiful still life in front of you. Don't rush through the process but enjoy the mindfulness, or the Zen, of cooking."
~Sarah Ban Breathnach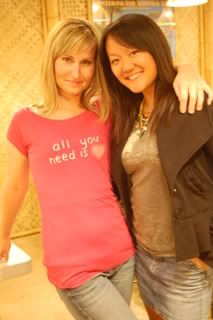 Since I enjoy eating more than cooking, laughing more than crying, and seeing other people smiling in my tees more than not smiling in my tees, I had to post these photos that begin the month of love. ♥!