random note: Paris Hilton is getting her craft on? Not sure how it will affect the crafting industry, but I guess socialites need hobbies too.
Here's a layout I did for the Creative Type. As part of my '09 resolutions, I think creating & giggling more tops the list.
I can't seem to get enough of these Shabby Chic Crafts tags!

The Boom Boom Room (also known as the Big Boom) for the Golden Globes was once again a fun event. Jayneoni got the best baby products together and put on quite the show. I was blown away by all the wonderful and innovative baby and kids products on the market, but my favorite was the brainchild of two mothers who realized their kids loved photo albums, but were unable to handle them by themselves, risking wrinkling, soiling, etc. So naturally they put their heads together and created Me and My Peeps Books, board books with your photos and your custom story.

I had the pleasure of meeting Evan Handler (best known to me as Harry-Charlotte's husband on Sex & the City) and his wife. He could not have been nicer. I smiled when his wife turns and says to him, "Oh yeah honey, we have some of these shirts!". My grin turned into even more of a laugh after Evan turned to me and said, "Oh this 'guy' one would be perfect for Dave. He's expecting a boy in a few weeks. You know, Dave, who played Steve."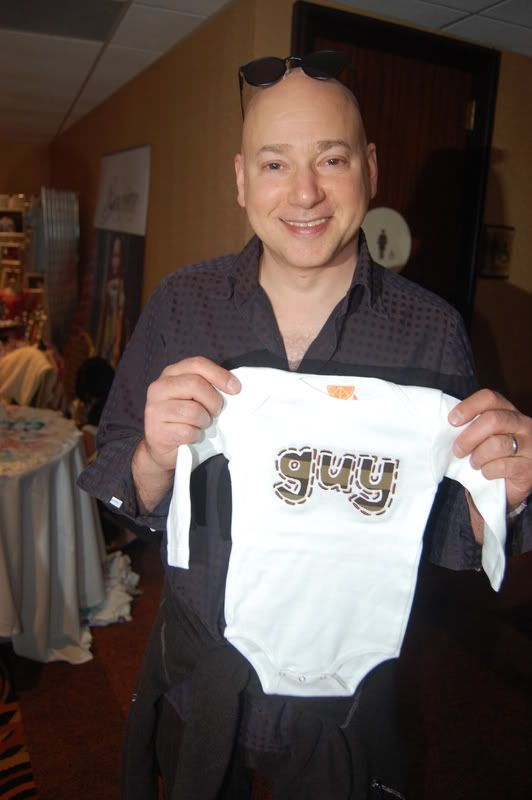 So now, Mr. Big, Harry and Steve- well really, Chris Noth, Evan Handler and David Eigenberg now have a fresh and juicy slice :)
And after seeing Chris Noth and his family here...

I happened to see them again the next day riding their bikes in Santa Monica along the path. Fun!