"Love wasn't put in your heart to stay. Love isn't love until you give it away." -Unknown.
I love giving gifts and making things for people. Truth be told, if I didn't have to work for a living, I would choose to just give for a living. Full-time. Giving the dogs a chance to visit nursing homes and children's hospitals across the country to let them bring joy and smiles all around. Giving myself moments of true relaxation and creative art therapy and being able to share that with others. Taking and making the time to create things for others has been constantly on my mind. Particularly because my first boyfriend (from junior high) sent me a message that made me giggle and smile and think, "wow... these little things really do mean something". Here is the abbreviated version of the message sent from someone who I have not had contact with in over 10 years:
"Amy-I just wanted to write you and say hi. I was going through old stuff a couple of weeks ago and came across a book of poems you wrote me in eigth grade. Although I want to keep the original because there is some priceless material in there that is sure to rival the likes of Robert Frost, I think you would get a laugh out of them."
************************************************
These aren't gifts for boyfriends, just friends who happen to be boys. This one was made for Joe, our d&a DJ extraordinaire...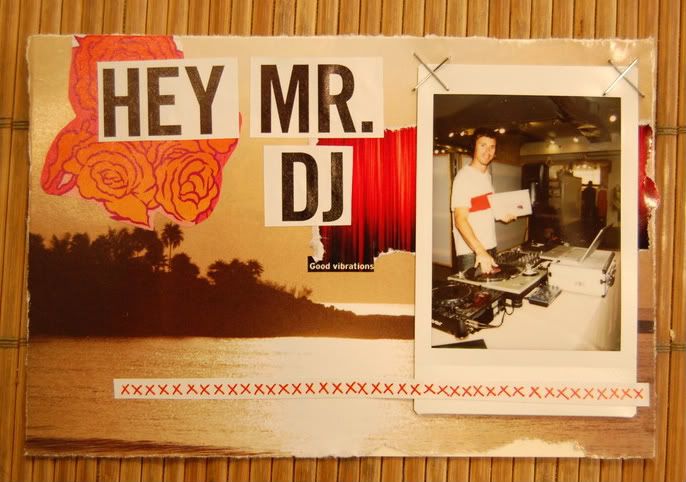 and this one for Andrew, because he shoots people.
and this one for a certain someone who nicknamed me "golden".
These collages are way fun to make, as are little journals. This one is for a dear friend (from high school) who's on the other side of the country. I added little bits on most of the pages, sort of as prompts for his thoughts, ideas, inspirations.

It is truly a delightful thing when you know you've brightened someone else's day. Comments like, "wow, I really love this... thank you." and "I'm keeping this forever." just rock.