Artistic Affaire happened a week ago, and I am still smiling while looking at my little projects and goodies from the day. The teachers were amazing, Lori Marie shared her stitching love and had her cute items (all handmade by her-including the adorable owls up the stairs which can be found at her shop) in the boutique. (Our tees were displayed on the sofa- thanks so much for everyone's support!!) Emily showed us amazingly cool "green" techniques with an adorable painted bird book. Kim Henkel had us do these lovely little felt birthday books. I decided to make mine of "Sweet Things" from the year... but I may save it and do it for the first year of being 30. Above everything else, the mixing, mingling, laughing and creating, the thing that totally made my day was the canvas that Rebecca made for me. I just LOVE it.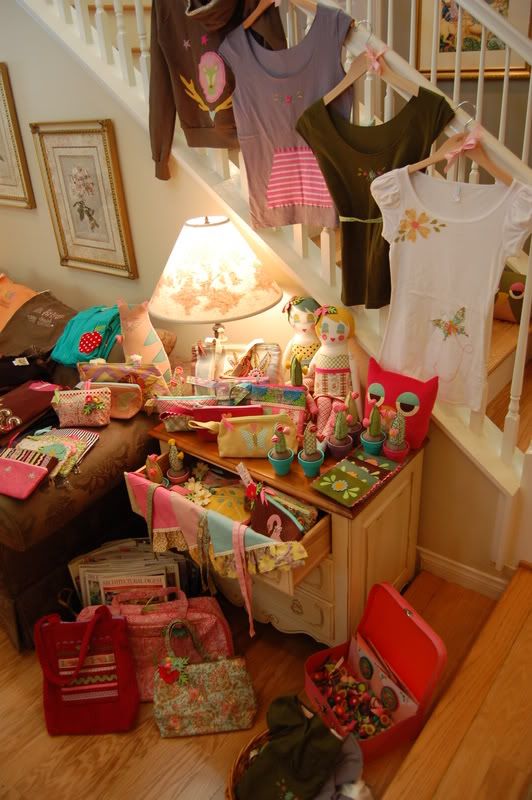 Upon getting back from NY, I was blessed with having the amazing opportunity to go to the
Step Up Women's Luncheon
at
the Beverly Wilshire Hotel
. It was truly a surreal experience and day, only partly because I sat next to Melissa Rivers (yes- Joan Rivers' daughter) who is such a delight to be around! Seriously! She was on my good side immediately when the first thing out of her mouth was, "I've bought your tee shirts retail before, and then Gillian gave me one as a gift, and I am so happy to meet you!" Needless to say, I was so happy to hang out with her and hear her funny stories, and also get invited to her next appointment at a super chic event hosted by
the Silver Spoon
. These ladies know how to put on an event! Will post photos soon.
Love to all the mommies out there!