I am probably one of the only late-twenties business owners in all of Los Angeles to not have a car. I gave up the silver beetle bug (it turned out to be a lemon) at the end of January and have been carless since! You could say that I have gone green and just don't need my own mode of transporation. We're actually a pretty green company anyway, but my lack of a car for the first time in over 10 years is all at once strange and soothing. Fortunately I have some great friends who don't mind picking me up every now and then. And of course I also have my pink beach cruiser (named Pinkie) that I look forward to riding everyday. Wait, that made it sound like I ride it everyday. Unfortunately I don't ride it everyday, well, not yet. Not until the weather gets warmer :)
Been soo happy with the parties this year for the Art of French Kissing. We have our last one in Chicago in one week. Here's a page from NYC using
Banana Frog's Concentric stamps
and random goodies like a subway map and the Hotel QT logo. Combining actual souvenirs and bits from the trips always makes a scrapbook more fun. It's actually what I used to do all the time. Will have to break out some of my favorites from my "sort-of-art journal mini book things" from the year 2000! They are funny!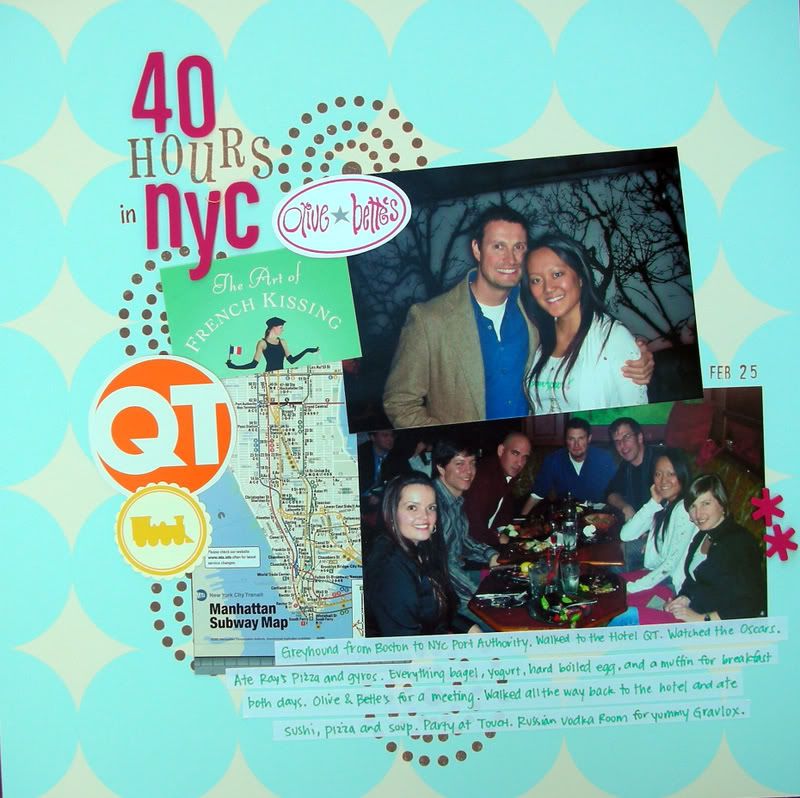 In this layout of our Winter Park party, I used
Banana Frog's Flowery Thoughts
set to stamp the words "hello happy friends" and cut them out and glued them down.