Had quite the BIG working weekend with the d&a tradeshow going on and also a fun celebrity luxury suite at the beautiful Century Plaza Hotel. Jayneoni rocked it once again with another fabulous Boom Boom Room event. Even though the Golden Globes were cancelled, the show still went on, and the celebs rolled in. Love how quickly the press works, as we got a delightful little mention that has just made my day! Check it out by clicking InStyle. Here is what it says:


Golden Globes Luxury Suites
Tori Spelling, Dean McDermott and Liam
We don't believe in that expression, 'Absence makes the heart grow fonder,'" said Tori Spelling, who,along with Dean McDermott and son Liam practiced some good old fashioned give and take at the Boom Boom Room gifting suite. Before picking up hand-stitched T-shirts from Amy Tangerine, baby bags from Go Ga-Ga and stuffed animals from Soko, celebrities made donations to the Jayneoni Moore Children's Fund, a charity that provides access to reading programs and books for low income families.
**********************************
I wasn't at the BIG event the first day, and Tanja helped me out BIG time by covering the event and snapping a photo of Angela from one of my favorite shows ever. Recognize this Office girl? It's fun to see her smiling and hear that she's not too much like the character she plays.
So while I had the pleasure of soaking it up on the 18th floor of the gorgeous hotel- I noticed the gorgeous view from the balcony, and also the large amount of smog. It's something I guess I have just gotten used to after 4 years of living in LA.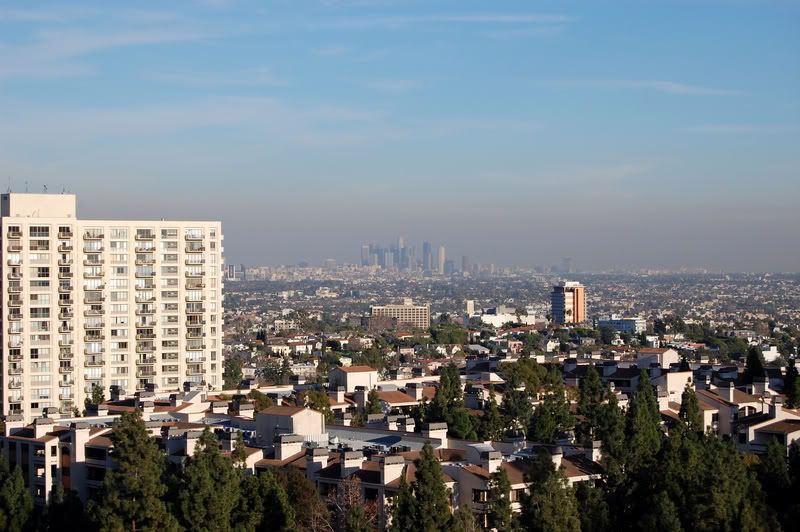 There were lots of highlights throughout the day, including a darling little 11 year old named Chloe Moretz, who you may recognize from the show, Dirty Sexy Money (I know, it's ironic a cute, adorable 11-year old is in a show named that). I don't watch too much tv, but she is adorable and has 3 movies coming out this year, so she's definitely one to watch. She could not have been cuter or more polite.

Let's all hope she stays this way!
And of course I have not yet seen I AM LEGEND, but I had the pleasure of meeting the beautiful Salli Richardson, who plays Will Smith's wife in the film.

Denise Richards is just as gorgeous in person and ever so sweet.
And then Mr. Big walked in with his girlfriend (they are expecting a baby boy very soon).

Phew, that was a lot!
A funny thing happened while I was sharing my love for scrapbooking with some folks and someone overheard me talking about it and said, "Did you see the front page of the LA Times? It has some article about a woman who won some scrapbooking thing and now there's this whole scandal." Of course I was intrigued, and she got the copy from her room and handed it to me. For those who haven't seen it, here is the link: LA Times
My hope is that I continue to do what I love, no matter what that may be, and no matter what people have to say about it. I think Kristina Contes is super talented and I think the article is well written. It does shed some interesting light on a hobby that has become such a big part of my life (and a huge part of the lives of others). I choose not to get caught up in all the gossip, whether it relates to famous people on tv or celebrity scrapbookers- and though it can be hard, I will do what I was taught when I was younger, "If you don't have anything nice to say, don't say anything at all".