Gosh it feels like I am on a plane every week. Wait- I have been on a plane every week for the past 3 or 4 weeks! Yikes. So here's my catch up stuff... before Thanksgiving I went to Orlando and while in Hollywood, FL this past weekend I got lots of crafty stuff done. Here are the order in which the events happened and the relative temperatures:
So first it was a quick little trip to Orlando (between 47 and 70 degrees!) It was lots of fun and so was scrapping this page- there are a couple more to come later. I worked on this page and many others while in Hollywood, FL this past weekend. I used Nora's kit from Scrapbook Oasis to make this page. I loved playing around with the yummy stuff and have decided that this is the way to go when I travel- pack a small box of favorites along with basic tools and then a few kits and I am all set. I knew my friend Kara had scissors and a paper trimmer so I left those at home.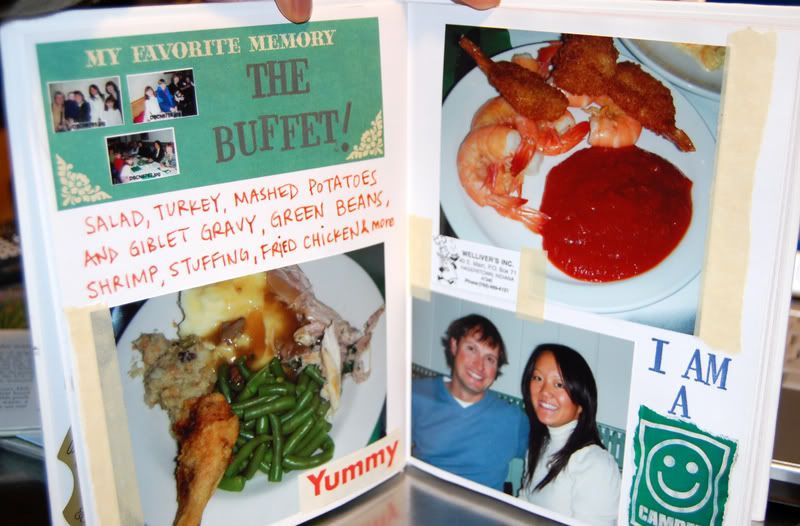 I like to take mini books on trips, especially to Indianapolis (between 36-60 degrees) where I have more time to be crafty. I guess it's more like a journal with photos. Basically a Bare Book with an embellished cover that I whipped up 30 minutes before we left for the airport Thanksgiving morning at 1:55am. I had no idea they had flights that late (or that early) but they do and it was great- slept almost the entire time! Then on the flight from Atlanta to Indiana, I stayed awake and dissected a couple magazines (Teen Vogue mostly)
We had an extended layover in Atlanta (62 degrees) and my sweet Papa picked us up so we could all enjoy cheesesteaks together for lunch. For this layout I challenged myself to doing no layering- which was sort of tough but I like the results!
And now we come to this past weekend in Hollywood, FL where it was gorgeous and 70-80 degrees!! Loved it. Here's a page from the beach! I decided that I dislike mixing colored letter stickers, oh well. Live and learn. Speaking of learning- I am doing a book where I write down each day what I have learned. Will post it soon.
So that's what I have been up to the past few weeks, thanks for looking!