I had a fabulous time being crafty this weekend. And I have some pretty exciting news... I am now a "cherry girl" for Out on a Limb Scrapbooking! I just ♥ their site and all their goodies! Here's their blog. Here are a few of the pages I finished and you can see more once they upload them to my gallery on their site.
Speaking of design teams, Freckle Friends is holding another Design Team call- click here for the details. And here are a couple pages I did for them using their November kit which includes this great Cosmo Cricket paper. The beige stitching is yarn- and I encourage you to try this effect on your pages. It gives great dimension and makes for a fun detail.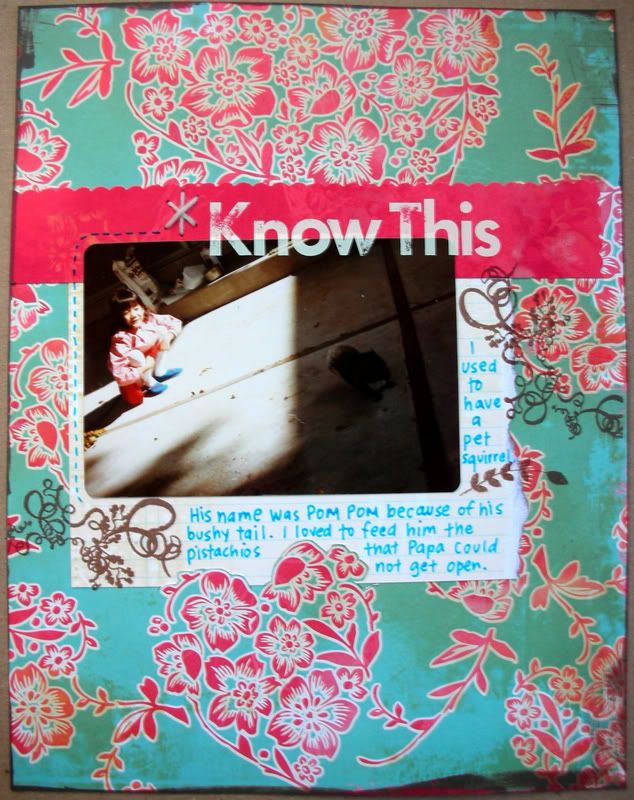 Also, I am being featured on this site for teens- Beacon Street Girls. It's a great concept for teenage girls. Apparently they are getting tons of questions from young girls for me to answer in a "Fashion Designer Tells All" thing. Fun stuff, as I love helping young ambitious people realize their goals. As I look through some of the questions, it's a little surreal to think that most teenagers are overly concerned about their appearances. I have sort of forgotten all the struggles of fitting in and being at that awkward stage.
And on another fashion-y note- looks like Junk Food (the tee shirts) has made an awesome collaboration deal with Gap kids! Apparel News did this great article and it's so fun to read about a cool success story. I remember meeting Blaine years ago when I was working as a fashion stylist. Wahoo for great design collaborations and fun design teams!