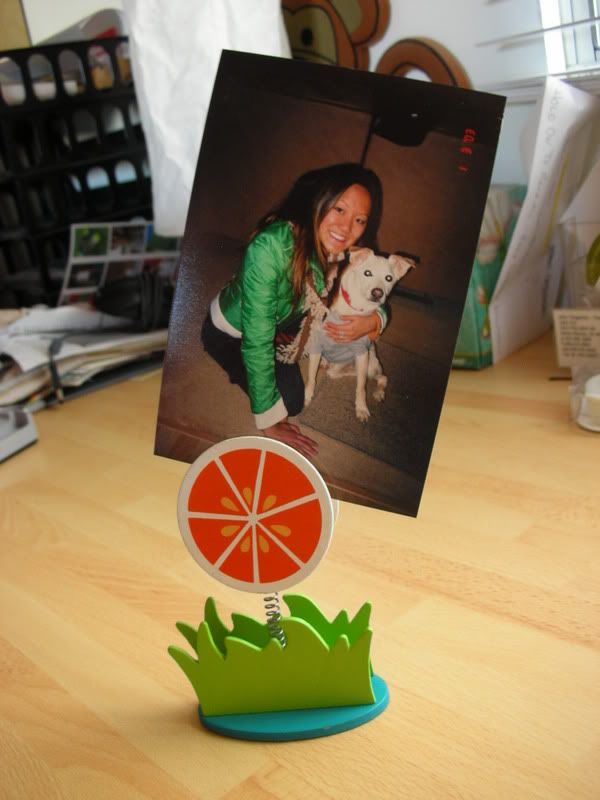 Addison, my first dog passed away 2 years ago from liver cancer and I miss him. Since I like all my posts to have a photo, I decided this one would be it. To combat feeling down around my birthday, I compiled this list. I cannot believe I will be 29 in less than 29 hours. Here's my list of 29 things I did before I turned 29 (while I was 28).
1. Went to England 2. Got addicted to scrapbooking. BIG TIME. 3. Incorporated! Amy Tangerine, Inc 4. Rented out my place in the ATL 5. Survived my first (and hopefully only) audit by the IRS 6. Went back to my natural hair color 7. Contacted a lemon law attorney about my beetlebug 8. Did a webisode for Scrapbook Lifestyle 9. Spent $800 on an amazing 12 foot closet from Ikea 10. Got a Scrapbooking area 11. Appeared on the cover of a magazine (the Piedmont Review) 12. Started really enjoying the spa and massages at the spa 13. Learned a lot about how small businesses work 14. Went to the dentist twice and a TMJ specialist twice and got diagnosed with Temporo Mandibular Joint 15. Started a blog 16. Held a 4 day old Asa and a 1 day old Yindi 17. Had my shirts at an art exhibit at MODA (To a T in Atlanta) 18. Got a Fujifilm Instax camera 19. Got a Slimline Power Strider for myself and one for mommy 20. Realized how much I dislike wearing bras 21. Found wonderful new friendships and rekindled some old ones 22. Stopped wearing anti-perspirant everyday 23. Got news that a dear friend from junior high died, my first boyfriend's father died, and a wonderful friend from college died 24. Had 3 of my shirts on Hannah Montana 25. Set work hours and stuck to them most of the time 26. Signed up for Netflix and watched a lot of movies 27. Realized that I need to work smarter, not necessarily harder (I work pretty hard already) 28. Made albums for Buster, Bamboo, and lots of mini books- Chicago, Scottsdale, Catalina Island, Gasparilla etc 29. Learned a lot... time flies way too quickly, life is too short not to be lived to the fullest.
Enjoy. Embrace. Evolve.