Po Tiena is the best way to describe me on Friday. It means: gone crazy/lost your mind in Haka, a dialect of Chinese I grew up speaking. I also learned Mandarin growing up but now I cannot speak either, but understand both.
Not only did I forget all my papers after driving an hour to get down to Scrapbook Oasis in Irvine, but I also forgot all my photos. They were in the bag with all the papers I wanted to bring. Of course I bought plenty of papers to work with, but I can't scrap without pictures. Photos are the first thing I start with, then I pick the papers. So yes, I did lose my mind, but I managed to get some stuff done and had a wonderful time with everyone, especially my new Freckle Friends!
I covered another American Crafts album with a record album cover- I intend to use this album for vacation pages. Maybe I need to take a vacation to the South Pacific soon :)

After a little bit of organizing and moping, I had Laura take a photo of me and mommy using my Instax camera and then put together this little page which made me happy.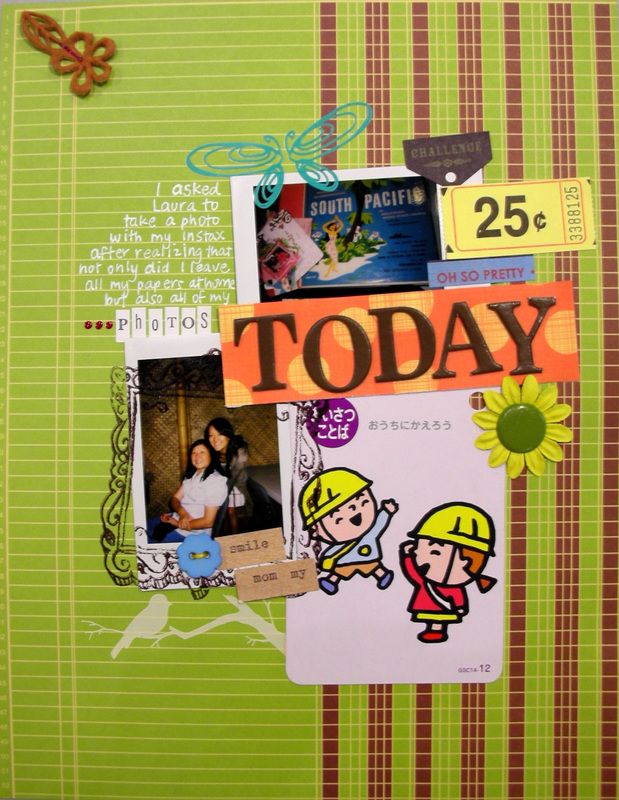 And then Kris showed up with delicious Macadamia chocolate chip cookies from Kelley's Kookies for me! I resisted opening them and am munching on them right this minute.
I begged her for some photos to scrap and she obliged thankfully, and I ended up getting 3 pages done for her. This one is my favorite, the other 2 are entitled "Funny Mother" and "Underwear head" and they are silly as well. The little Japanese cards rock and I have no idea where to get them as they were a lovely gift from Amber.


So what could have been a total bummer only made me realize how much I enjoy scrapbooking for others! I might have lost my mind for a brief second, but the universe was probably trying to tell me something. I'm just glad I figured it out. I've decided to write down 1 sentence as a lesson of the day in my daily book (mostly used for work stuff) even if it isn't profound everyday, it still would be a quick easy thing to record. Fun!