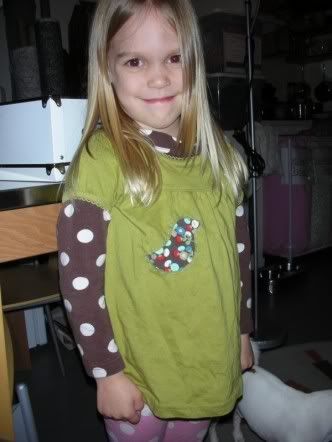 Quote of the day: "Let us live our lives in such a way that we can laugh while we are together and smile while we are away." **********************************************************
Went to Women's Dinner last night in Manhattan Beach and after eating the yummy pasta and salad that Bridget made, we played Bingo! We all brought beauty products that we had in our cabinets that we don't use, and I was so happy I didn't win any of my junk back. We had fun. This is a photo of the last round, where everyone who won threw in the things they did not want, so us losers had the chance to win.
Emily
finally came over! She stitched an adorable baby bird on Ivy's shirt and a momma bird on her own! She brought me some goodies that I cannot wait to play around with. Love creative energy surging through my place. Ivy played with Bamboo and Buster and got really tired after we ate Poom Thai!